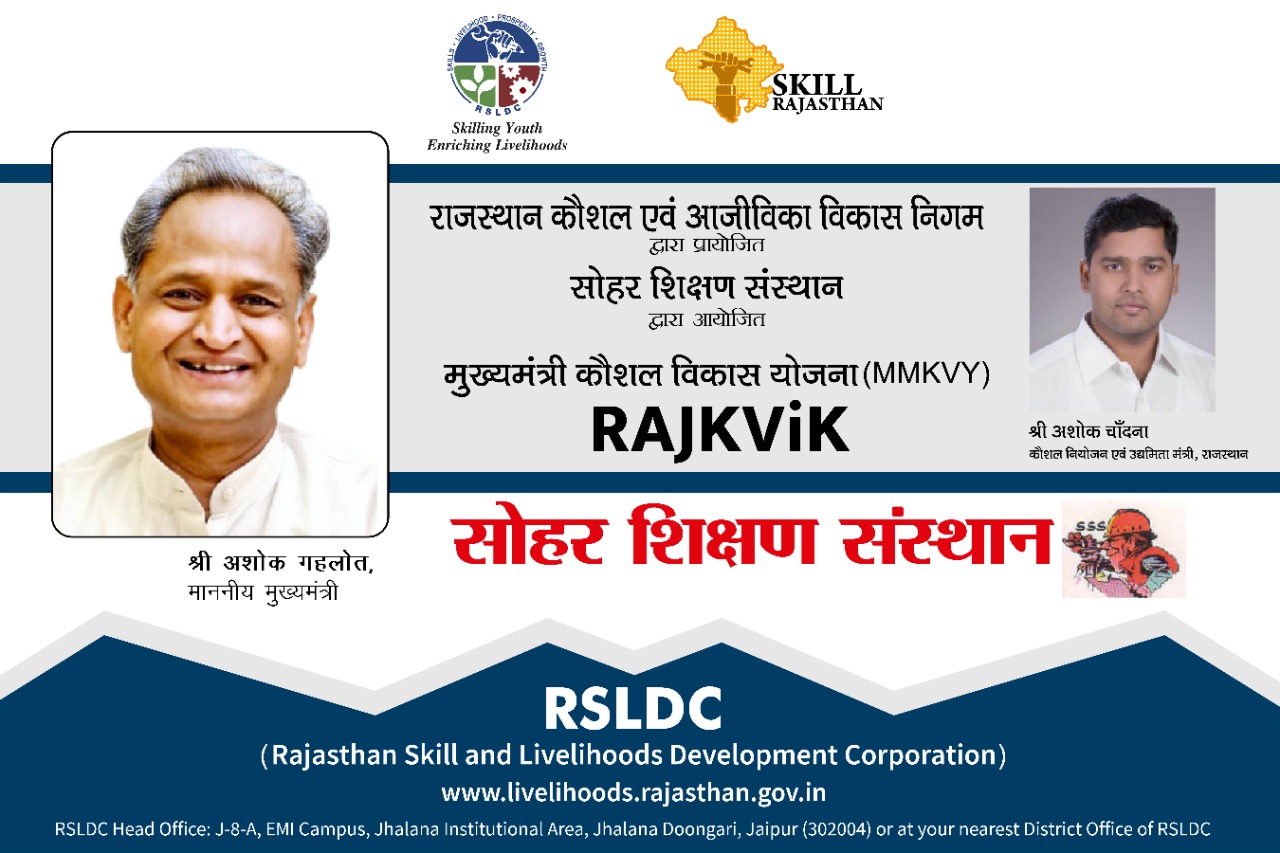 राजस्थान मुख्यमंत्री युवा सम्बल योजना
उद्देश्य-राज्य के शिक्षित बेरोजगार युवाओं को भत्ता प्रदान करना
निःशुल्क कौशल प्रशिक्षण एवं रोजगार भत्ता प्राप्त करने के लिए|
बेरोजगारी से रोजगार की और बढ़ते कदम|
बेरोजगार युवक - युवतियों से आवेदन आमंत्रित|
| Sr. No. | Trade | Minimum Elligiblity | Age | Duration |
| --- | --- | --- | --- | --- |
| 1 | Hospitality Management | Graduate/Post Graduate | 18-35 Year | 4 Months |

विशेषताएं व लाभ
बेरोजगारी भत्ता प्राप्त करने में सहायक
निःशुल्क प्रशिक्षण
प्रशिक्षण पश्चात् प्रमाण पत्र
ऑन जॉब ट्रेनिंग
रोजगार से जुड़ने में सहायक
रजिस्ट्रेशन के लिए दस्तावेज
जिला रोजगार कार्यालय में पंजियन
आधार कार्ड
ग्रेजुएट / पोस्ट ग्रेजुएट मार्कशीट
मूल निवासी प्रमाण पत्र
जाती प्रमाण पत्र
10th 12th की मार्कशीट
5 फोटो
बैंक पासबुक की कॉपी

प्रशिक्षण के साथ
कंप्यूटर प्रशिक्षण (Computer Practice)
बेसिक इंग्लिश स्पीकिंग (Basic English Speaking)
व्यक्तित्व विकास कौशल (Self Skill Development)
मुख्यमंत्री युवा सम्बल योजना केंद्र
मैन आयड़ रोड, पुलिस चौकी, लेक सिटी मॉल के पास, धर्मराज जी मंदिर के सामने, आयड़ उदयपुर (राज.)
+91 8254872724 / +91 8233633325
Get Details
GAIT Infotech is a leading provider of skill development courses in Udaipur. We offer a wide range of courses, including Tally, Marg, ACPFAT, accounting and finance, computer courses, and online degree programs. Our courses are designed to help you develop the skills you need to succeed in your career.
We have a team of experienced and qualified trainers who are experts in their respective fields. We also offer flexible learning options, so you can study at your own pace and from anywhere in the world.
If you are looking for a way to improve your skills and advance your career, then GAIT Infotech is the perfect place for you. We offer the training and support you need to be successful.
Here are some of the benefits of taking a skill development course at GAIT Infotech:
You will learn from experienced and qualified trainers.
You will have access to the latest learning materials.
You will be able to network with other professionals in your field.
You will have the opportunity to get certified in your chosen field.
If you are interested in learning more about GAIT Infotech's skill development courses, please visit our office or contact us today. We would be happy to answer any questions you have.